Image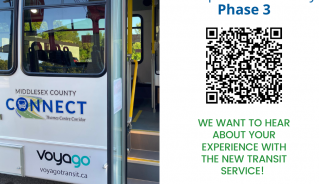 Feedback about NEW Transportation Service - Middlesex County Connect
The County of Middlesex started two new transportation routes in September. This new transportation service is called Middlesex County Connect.
The first route connects Thorndale to London (Route 1).
The second route connects Woodstock to Dorchester to London (Route 2).

With the ongoing pandemic, we would like your feedback about how you might use this transportation service at this time.