Image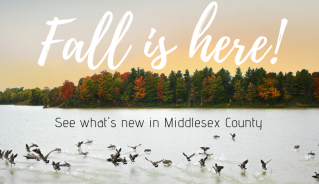 Local Municipalities Crack Macleans Top 100 Places to Live
Middlesex County is a wonderful place to live and work and people are taking notice. Maclean's Magazine recently released their list of the best communities in Canada to live in, and three municipalities in Middlesex County cracked the top 100; Middlesex Centre came in at #34, Thames Centre at #41, and Strathroy-Caradoc at #100.
The magazine compared 415 municipalities across the country taking various factors into consideration in order to rank the towns and cities, including: wealth and economy, affordability, population growth, taxes, commute, crime, weather, access to health care, amenities, and culture.
Communities in Ontario and British Columbia dominated the top 50 on this year's list, however what's even more interesting is that municipalities with 40,000 people or less accounted for more than 60% of those top 50 towns. According to Maclean's, "contrary to the popular image of the struggling small town, these communities rose to the top of the ranking because of their high incomes, strong population growth, and access to thriving regional economies. These places are all either within driving distance of a larger population centre, or are hubs of local economic activity in their own right."
One of the major appeals to several of the municipalities in Middlesex County is the ability to blend both urban and rural lifestyles. The close proximity to London allows residents to easily access the amenities of the neighbouring urban centre, while still being able to live comfortably and affordably in a more rural, small-town setting. Benefitting from both lifestyles means residents don't have to compromise, as the article affirms, residents have "access to the same amenities a suburb might offer, the natural splendour of a rural area, and the opportunities of an urban centre."
While easy access to urban amenities is great, it's the small-town feel and warmth of community members that attracts and keeps residents in Middlesex County municipalities. The feeling of connectedness and strong sense of community are not necessarily tangible things that can be measured or quantified, but they are certainly significant reasons people want to be a part of municipalities like ours.
To discover the benefits so many people are raving about living and working in Middlesex County communities, check out www.investinmiddlesex.ca