Image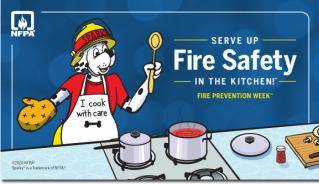 Fire Prevention Week is October 4 - 10, 2020. This year's Fire Prevention Week (FPW) theme, "Serve Up Fire Safety in the Kitchen!"TM is aimed at educating everyone about the simple but important actions they can take to keep themselves and those around them, safe in the kitchen.
Unattended cooking is the number #1 cause of fires in Ontario.
The Office of the Fire Marshal (OFM) has developed the following resources to help support fire departments in their local efforts to raise public awareness of fire safety during Fire Prevention Week.
---
Simple steps to serve up fire safety in the kitchen include: 
Cooking and Alcohol Don't Mix!
You must be alert to prevent cooking fires. You will not be alert if you have consumed alcohol or drugs. Cook responsibly!
Clear the Clutter!
Keep anything that burns— plastic utensils, dishcloths, paper towels—a safe distance from the stove.
Stand By Your Pan!
Unattended cooking is the leading cause of home fires. Always stay in the kitchen when you cook.
Never Throw Water on a Grease Fire!
If a pot of oil catches fire, put a lid on it. Slide a lid over the pot and turn off the stove. Do not move the pot.
Install smoke and carbon monoxide alarms!
Install working smoke and carbon monoxide alarms on every storey of your home and outside sleeping areas. Test them every month!
Fore more information, contact Fire Services or the Office of the Fire Marshal and Emergency Management
Learn more
---