Image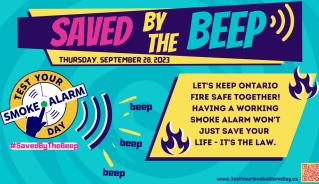 Test Your Smoke Alarm Day - September 28, 2023
The Municipality of Thames Centre is joining communities across Ontario on September 28th by asking everyone to take a minute and to ensure that there are working smoke alarms installed in their homes. Last year there were 133 fire fatalities in the province - the most in 20 years. As part of Test Your Smoke Alarm Day, all Ontarians are encouraged to learn more about smoke alarms, fire safety, and home fire escape planning, which can save the lives of you and your loved ones. Most importantly, we want you to test you smoke alarms!
How To Participate:
Snap a photo of you or family members testing your smoke alarms and post it to social media using the hashtag #SavedByTheBeep. You can also share FREE social media images and videos that you can find on the download page of www.savedbythebeep.ca. Tag your friends and family to spread the message.
Thames Centre Fire Department urges all residents to participate in Ontario's first "Test Your Smoke Alarm Day" on September 28, 2023.
Please test your smoke alarms to protect yourself and your loved ones, and make sure they can truly be "Saved By The Beep"!
For more information on participating or about smoke alarms please see our website: www.thamescentre.on.ca/fire or www.savedbythebeep.ca