Image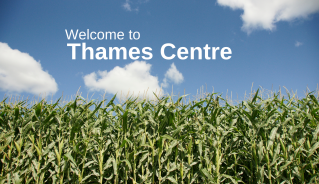 Welcome to Thames Centre, a thriving and growing municipality, offering a mix of both urban and rural living where neighbours and friends are often one and the same. Located within Middlesex County, we are a vibrant, growing community in the heart of southwestern Ontario. 
Whether you are new to Thames Centre or maybe have questions about our services, you have landed in the right place! The following information will help you to get to know some of the services that the Municipality of Thames Centre has to offer.
Have a question not listed below? Please don't hesitate to reach out to our friendly customer service.
Come join in on the fun, we are happy to have you here!
Setting up Water and Tax Accounts

Looking to have your water or tax bills sent to you via email (paperless billing), or to sign up for our pre‐authorized payment plan?

You can find the required forms on our Billing & Payments page.

This is also where you will find information about what to do when you move (setting up new accounts and final meter reads).
Garbage and Recycling

Garbage and Recycling collection is provided by Miller Waste Systems Inc. You can get information about your collection date, garbage bag tags, recycle bins and more at Garbage and Recycling. 

Note: Garbage bag tags and recycling bins are encouraged to stay with the house for the next resident when you move but this should always be negotiated between the buyer and seller. If you've moved into a new build, you will need to purchase garbage bag tags.

Residents can purchase new blue boxes at the Municipal Office. If your blue box is damaged, you can return it to the Municipal Office and receive a replacement, free of charge.
Dogs in Thames Centre

All dogs living in Thames Centre MUST have a valid dog tag. As of January 2022, dog tags will be issued for the lifetime of your dog at no charge to you.

Already have a tag? Your dog is good to go!
Need a tag? Call or visit the municipal office.

Dogs are not allowed to run-at-large anywhere in Thames Centre. This means they must be on a leash when you are out for a walk or visiting a park

"Dog Day Park" is designed to provide off-leash access within a specific municipal park to accommodate the needs of dog owners to exercise their pets when they wont be subject to the municipal animal control by-law.

Located in Dorchester with one opening in Thorndale, TBD.
Parks and Recreation

The FlightExec Centre (commonly known as a community centre) is the heart of the town's recreation, culture and parks system. It features two rink pads, with one being an NHL sized ice surface, an indoor walking track, gymnasium, seniors centre, skate park, outodoor tennis/pickleball courts, outdoor pool(s), splash pad and rental facilities.

Visit our Parks and Recreation for full details on everything we have to offer.
Building, Renovating or Planning Services

The Planning and Development Services department is responsible for ensuring essential services such as Building Services, By-law Enforcement, and Planning Services. Inquire today to see if your project requires a building permit or planning application. 
Outdoor Fires

A permit is NOT required for backyard recreational fires.

However, open air burning is regulated within the municipality. Open air burning will only be conducted with approval of the Chief Fire Official and in accordance with the conditions set out in the Controlled Burn Permit for the Open Air Burning By-law. 

While on the topic of "fire", check out the rules around fireworks as well! 
Tourism 

Visit Middlesex County - a popular all-season destination for residents of London and other nearby cities looking to trade a day or two of city life for the tranquillity, beauty and quaint rural towns and areas. Follow the Grassroutes Trail in its entirety or hop on along the route and find signs to point you to some of the best hot spots that Middlesex County has to offer. From championship golf courses to fine dining and exceptional shopping opportunities, to some of the most unique historical and cultural attractions in Southwestern Ontario … Middlesex has all you need for the perfect getaway and more. The friendly and hospitable people in each of our communities are ready and waiting to make your visit a memorable and rewarding experience
Mayor and Council

Thames Centre Council members are part-time and therefore do not keep regular hours at the Municipal Office.

If you wish to contact a member of Council, please do so by e-mailing them at their respective addresses.
Stay in Touch
For Questions Contact:
Job Title
Customer Service
Department
Administration