Image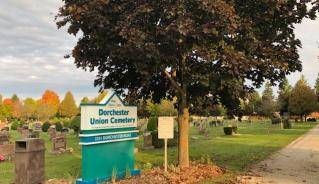 For Questions Contact:
Job Title
Cemetery/Administrative Coordinator
Department
Administration
The Municipality of Thames Centre owns and operates the Dorchester Union Cemetery.
In addition, the Municipality maintains seven other inactive cemeteries throughout the Municipality.

DORCHESTER UNION CEMETERY - MOTHER'S DAY RESTRICTIONS
ACTIVE CEMETERY  
Dorchester Union Cemetery 

OACFP Licence # 3285536, Regular Membership

In person inquiries are by appointment only. 
INACTIVE CEMETERIES
Bowers Cemetery 

Map/Location - 22581 Purple Hill Road
Cobble Hill Cemetery 

Map/Location - 21560 Cherry Hill Road
Monument Pictures and Inscription Information (coming soon)
Derwent Cemetery

Formerly known as Fifth Concession Cemetery
Map/Location - 135 Westminister Drive
Monument Pictures and Inscription Information (coming soon)
Gladstone Baptist Cemetery

Map/Location - 4895 Dorchester Road
Monument Pictures and Inscription Information (coming soon)
New Monument and Marker Pictures (coming soon)
Dedication Ceremony - held on May 24, 2009 (coming soon)
Harrietsville Anglican Cemetery

Map/Location - 2275 Harrietsville Drive
Monument Pictures and Inscription (coming soon)
Nilestown Baptist Cemetery

Map/Location - 2980 Hamilton Road
Monument Pictures and Inscription (coming soon)
Purdy Cemetery
NON-MUNICIPALitY OWNED - OTHER ACTIVE CEMETERIES IN THE MUNICIPALITY 
Clipperton Cemetery

Location: 20236 Purple Hill Road

Mailing Address: 8 Nottinghill Cres., London, ON N6K 1R1

Owner: Clipperton Cemetery Trustees

Operator: Clipperton Cemetery Board

Contact: Bill Goarley , Secretary

Phone: 519-473-0326
Robin's Hill Cemetery

Location: 16598 Robin's Hill Road

Owner: Robin's Hill Cemetery Corporation

Operator: Volunteer Cemetery Board

Contact: Floyd Wills, Secretary Treasurer

Mailing Address: 20299 Fairview Road, Thorndale, ON N0M 2P0

Phone: 519-461-1547

Second Contact: Ed Lee, Chair

Mailing Address: 21418 Heritage Road, Thorndale, ON N0M 2P0

Phone: 519-461-1936 or 519-671-9930
Vining Cemetery

Location: 22157 Purple Hill Road

Owner: Vining Cemetery Trustees

Operator: Volunteer Cemetery Board

Contact: Eleanor Hudson, Secretary

Phone: 519-461-1668
Zion Hill 7th Line Cemetery

Location: 5193 Cobble Hills Road

Owner: Zion Cemetery Trustees

Operator: Volunteer Cemetery Board

Contact: Wayne Murrell

Phone: 519-461-1795
NON-MUNICIPALitY OWNED - OTHER INACTIVE CEMETERIES IN THE MUNICIPALITY 
North Nissouri Cemetery

Location: 24058 Fairview Road

Owner: North Nissouri Cemetery Trustees - Religious Organization

Operator: Cemetery Board

Contact: Ray Smith

Phone: 519-461-1974