Image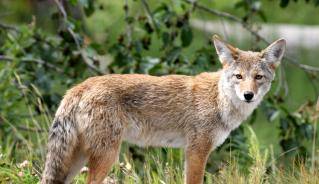 The Municipality By-law enforcement does NOT manage wildlife.
The Government of Ontario website has provided information on how to avoid conflicts with coyotes, wolves and foxes, and what to do if you encounter these animals.
What to do if you encounter a coyote, wolf or fox

If you see a coyote, wolf or fox, keep your distance and the animal will most likely avoid you.

If you encounter an aggressive animal:

Never approach or touch a wild animal
Do not turn your back or run from a wild animal
Back away from the animal while remaining calm
Stand tall, wave your hands, and make lots of noise
Carry a flashlight at night
If a wild animal poses an immediate threat or danger to public safety — call 911
How to make your property uninviting

Use flashing lights, motion sensors and noise makers
Put up two-metre high fence that extends at least 20 centimetres underground
Install a roller system to the top of your fence so animals can't gain a foothold
How to prevent conflicts with dogs and protect livestock

Dogs

Keep dogs inside at night
Clean up after your dog — coyotes are attracted to dog feces
Spay and neuter your dogs — coyotes are attracted to, and can mate with, domestic dogs that have not been spayed or neutered
 

Livestock

Where possible, bring your livestock into barns or sheds at night
Use guard animals, such as donkeys, llamas and dogs
If livestock has been killed by predators, you may be eligible for compensation through the Ontario Wildlife Damage Compensation Program
Lethal action

As a last resort, a farmer may humanely kill or trap wolves, coyotes or foxes that are damaging or about to damage their property
If you are using a firearm, you must follow certain regulations and local bylaws
Landowners may also hire an agent to act on your behalf
How to report a wolf or coyote death

If you live in central and northern Ontario, you must report wolves and coyotes killed in protection of property to your local Ministry of Natural Resources and Forestry offices.
Trappers who address coyotes

To locate a licensed trapper, contact:

Ontario Fur Managers Federation
705-254-3338
furmanagers@gmail.com